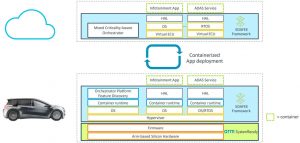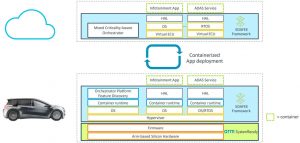 To be called Soafee, for Scalable Open Architecture for Embedded Edge, it is the result of automakers, system integrators, semiconductor, software, and cloud technology companies coming together to define an open-standards-based architecture for the software-defined vehicle, according to Arm. The intention is that it will enable cloud concepts like container orchestration.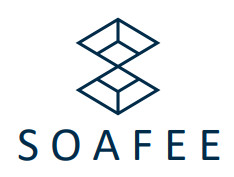 "The aim of the Soafee project is to bring the benefits of a cloud-native development environment to address the specific challenges and constraints of the automotive domain such as functional safety and fast and precise real-time control," it said. "One of the fundamental requirements in cloud-native is being able to decouple software from hardware. It should be possible to ensure that a workload can be easily deployed to different hardware without needing to fundamentally re-architect the underlying software. The ideal solution would be to enable binary portability without needing to recompile application code."
In addition, there is the 'Soafee reference implementation', an implementation of the architecture defined by a special interest group (SIG) of the organisations involved, which will be "free open-source software aimed at allowing broad prototyping, workload exploration and early development," said Arm. "Arm is working with commercial solutions providers to maximise compatibility."
Soafee builds on Project Cassini, which includes SystemReady from Arm, for standards-based cloud-native experience at the edge.
Partner companies: Adlink, Ampere, Apex.AI, AWS, Capgemini Engineering, Cariad (Volkswagen), Continental, Green Hills Software, Linaro, Marvell, MIH Consortium, Red Hat, Suse, Woven Planet and Zing Robotics.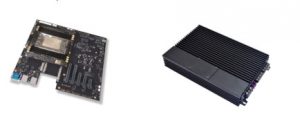 For example, ADLink has a SystemReady-compatible development platform built around Arm Neoverse-based Ampere Altra cores for workload exploration and development using the Soafee reference software stack for applications such as cockpit, automated driving and powertrain control. It is in two parts, both with the same processors: a server-like 32-core lab workstation, plus a rugged in-vehicle 80 core processor unit with on-board ASIL-D safety MCU (right).
Arm also sees the Soafee framework being used in robotics and other industrial automation.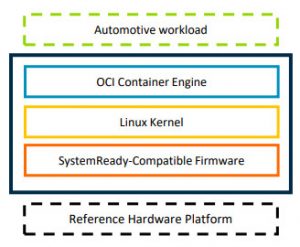 Soafee initial reference software stack
An initial release of the Soafee collateral and reference implementation is available to download here.
This is a useful Soafee backgrounder, that includes the orchestration and a list of container runtimes.