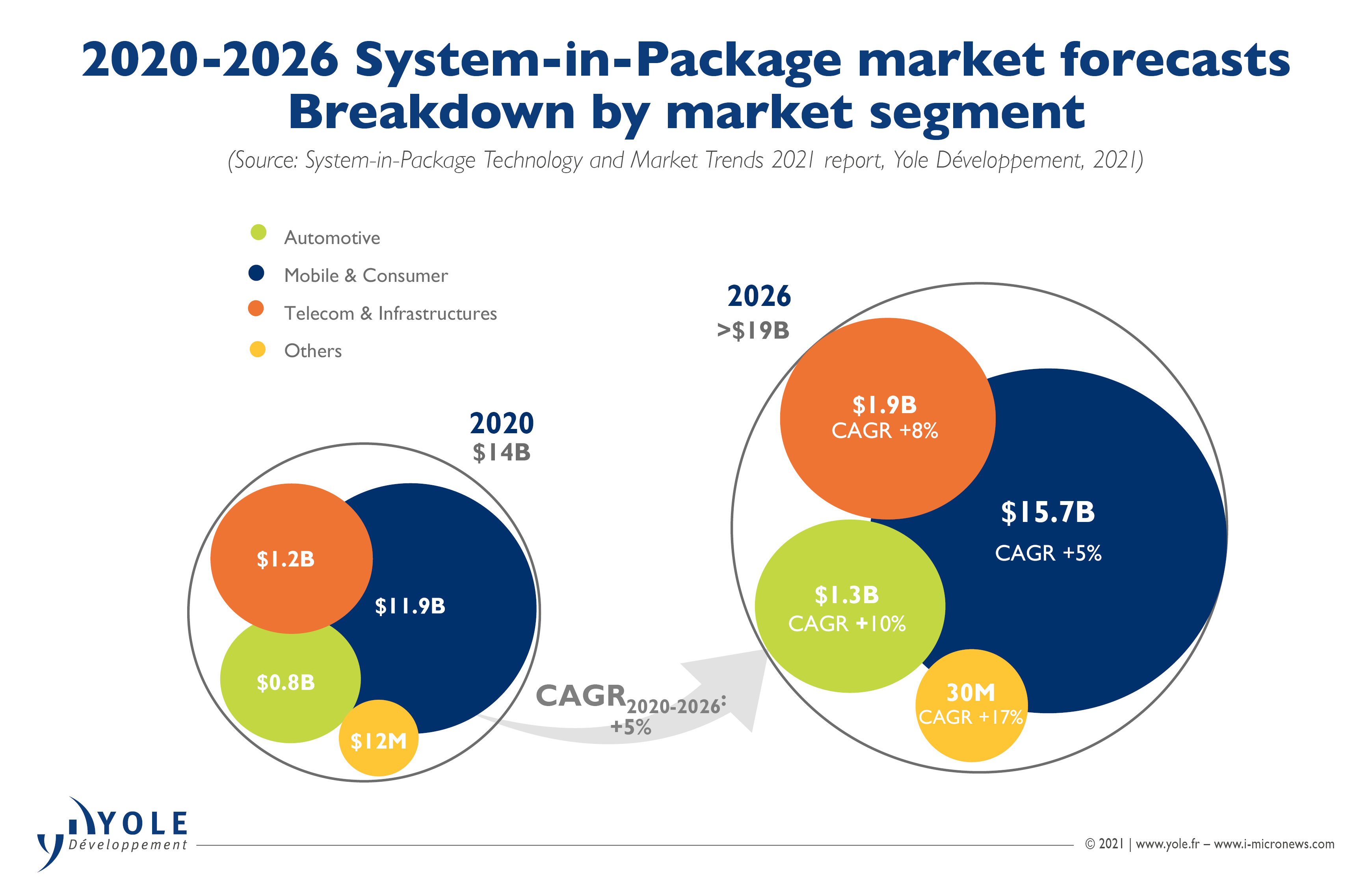 The Flip-Chip (FC) & Wire-Bond (WB) based SiP market is expected to reach to $17 billion in 2026 with 5% CAGR 20-26, while Embedded Die (ED) SiP is expected to reach $189 million in 2026, at a 25% CAGR 20-26, and Fan-Out (FO) SiP is expected to reach $1.6 billion in 2026 at a rate of 6% CAGR20-26.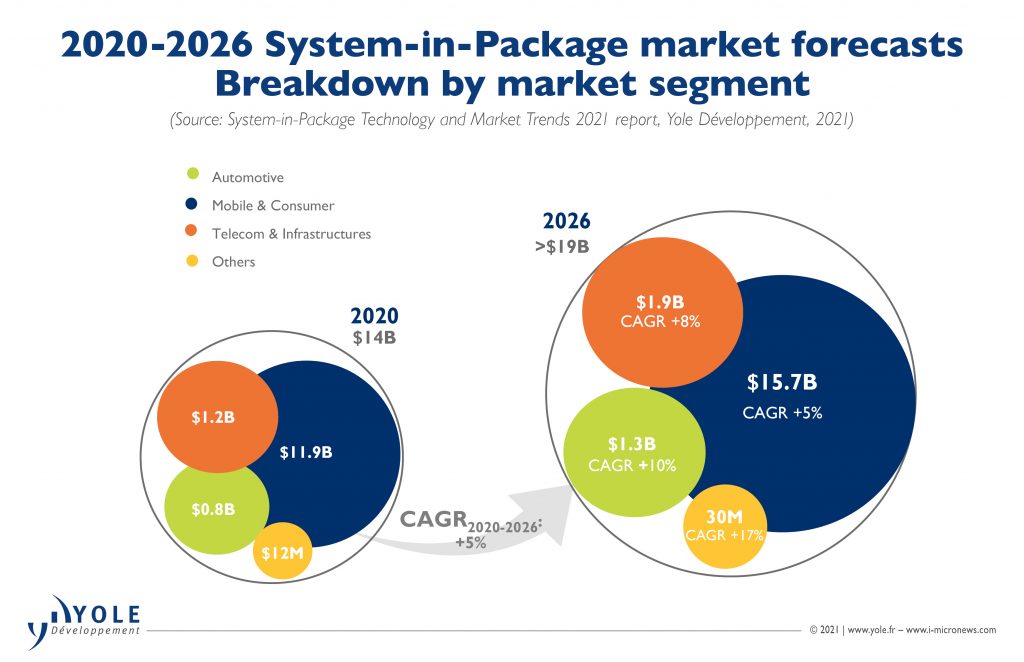 The FO platform is viewed as one of the top packaging options for SiP.
The industry needs a strong motivation to develop new substrate processing technology in order to scale further.
ED technology is still in its early years in terms of adoption.
SiP's ecosystem has matured in last five years with majority of share consolidated to the top OSATs such as ASE, Amkor, and JCET in RF space.
Amkor, ASE, and JCET are projecting estimated 10-20%+ increase in revenue from SiP business in 2021 compared to 2020.
The SiP product line includes high- to mid-end SiP devices, such as computing and data center applications, with much higher margins than the low-end SiP devices found in mobile handsets.
The high-end SiP market segment is expected to grow at a 9% CAGR between 2020 and 2026, whereas the low-end RF SiP one, found in mobile phones, is expected to grow at a slightly lower CAGR of 5% from 2020 to 2026.
In addition to dual side molding, compartmental and conformal shielding remains another key process technology for RF-SiP devices.
In terms of package height, OSATs are expected to push for 0.6 mm total package height for SiP devices in the coming years. With the deployment of 5G, increased development of materials is seen, to improve the reliability of SiP devices, especially in molding and solder ball materials.
Business models have evolved significantly over the past five years. OSATs (Out-Sourced Assembly and Test) have dominated in the past, and the demand was somewhat scattered in the SiP landscape 5-8 years ago.
However, with mobile handsets, RF evolution, and 5G deployment, SiP has come of age and can robustly support multiple markets, starting with the low-end RF SiP markets dominated by top OSATs and driven by leading OEMs, such as Apple and Samsung.
This explosion in multiple segments has prompted IDMs, foundries, EMS houses, and OSATs to compete in this thriving market. ASE's USI generates a significant portion of ASE's revenue and will approach 50% of the revenue in a few years.
OSATs are developing capabilities to mount anywhere from 50-100 passive SMT components and manage a supply chain that was foreign to them just a few years ago.
IDMs, such as Intel and Samsung, are driving hybrid die-to-die interconnect-stacked-packaging, such as Intel's Foveros architecture and Samsung's x-cube architecture.
These die-to-wafer or die-to-die interconnects will gravitate towards hybrid bonding, improving device performance and bandwidth in a near future.
Intel is also targeting a Co-EMIB server product on 7 nm node by 2023.