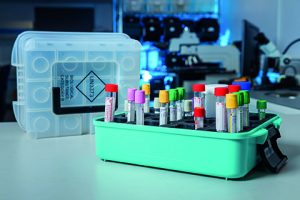 Radio frequency identification (RFID) has achieved strong growth in the apparel sector. By adding a unique digital identifier that can be read without line of sight and at a distance from the product, inventory control is smoother and business processes throughout the entire supply chain can be streamlined. This has enabled strong return on investment models that more than outweigh the additional cost per item of the inclusion of an RFID-enabled label or inlay (tag). This helped to sell more than 21 billion RAIN RFID ICs in 2020 (see text box).
Reaching the price point and volumes required for this initial market has required advances in inlay production methodologies, bridging the gap between traditional electronics manufacturing and the high-speed roll-to-roll label and package converting lines. Inlay manufacturing equipment supplier Mühlbauer has made great strides in improving throughput on pick and place machines over the past decade. The most recent equipment uses direct die attach with fast-curing adhesives, from companies such as Delo, to advance towards 100k inlays per hour.
RFID for consumers
The advantages of RFID could equally be applied to many other fast moving consumer goods (FMCGs). If sensors could be added, more ambitious goals could be set – reducing food waste, reducing waste of natural resources and increasing circularity. The volumes are enormous – plastic bottled non-alcoholic drinks have yearly sales of more than 500 billion items, packaged meat has about the same number. The numbers for FMCGs in general are in the trillions of items.
This volume does not just require advances in inlay production, it also requires another step reduction in price point – since FMCGs are in general lower in price by a factor of 10 than the average apparel item, the packaging prices are even lower.
A significant contributor to the cost of an inlay is the IC itself. Manufacturing these is typically focused on semiconductor nodes between 40µm and 180µm, with a mix of 200mm and 300mm wafer formats. Generally, price reduction in silicon is achieved by shrinking the die on more advanced nodes. A balance must be achieved, however, because the smaller the IC becomes, the more accurate the placement tools must be, increasing the inlay assembly costs and impacting line speeds.
Technical assembly
Companies have looked at different assembly methods, for example, Alien Technologies patented an approach using fluidic self-assembly to allow ICs to orient themselves into an energetically favourable and correctly aligned position. Others have tried chipless RFID by forming structures with discrete resonance profiles. A dedicated reader would then either send a shaped pulse or scan through a range of frequencies to identify any tags present. Examples include using an array of materials with discrete magnetic resonance profiles, tuned resonant fibres – used by Tapemark which produces drug delivery patches – or surface acoustic waves. None of these has achieved market traction due to challenges around expensive materials, lack of anti-collision (reading multiple tags in the same field) and limited data capacity.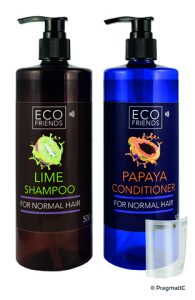 Another roadblock is meeting the volume requirements for FMCG. Present capacity for these technologies is a silicon area equivalent to about 50 million 200mm wafers per year. That is mixed across foundry production and dedicated products and expected to grow by roughly 6% year on year.
To address just the plastic bottled non-alcoholic drinks market with the most widely sold RFID IC would require a silicon area equivalent to 4.4 million 200mm wafers per year. That equates to more than 9% of the present global capacity in the appropriate technology nodes, in a market that is already over-subscribed. Expansion to the rest of the FMCG market would severely stress the supply chain. A significant investment in capacity would be required, but at present all semiconductor investments are focused in the opposite direction to what is required for RFID in FMCG – at high integration, high performance, small features size and consequently high cost per area wafers.
A new approach
What is required is a completely different approach to design and scalability that is wholly focused on the volume and price requirements of this market. PragmatIC Semiconductor has developed a flexible IC manufacturing process that is not based on silicon, but on materials and processes that have been adapted from those originally developed for the large area display industry. These flexible ICs (FlexICs) not only reduce the cost of the IC, but also reduce the complexity of assembly, further lowering the cost of the finished inlay.
The company has also developed a highly scalable semiconductor fabrication system (fab), which is self-contained, highly automated, and has a 100x smaller footprint compared to a traditional silicon fab. In the future there will be a network of distributed fabs, close to the point of use, each turning out billions of FlexICs per annum in cycle times that are days rather than months. This approach is expected to produce mass market volumes – one trillion smart objects over the next decade from a total investment less than the silicon industry spends in a single month.
As well as reducing lead times and maximising efficiency, there are also sustainability benefits. The FlexICs themselves and the manufacturing environment they are made in carry a significantly lower carbon footprint than more traditional methods, and the shorter supply chains caused by chips being made closer to inlay production sites result in a faster, more efficient delivery overall.
Let it RAIN
Caroline Hayes writes: RAIN (radio frequency identification) RFID technology uses the GS1 UHF Gen2 protocol ( ISO/IEC 18000-63). The acronym is intended to acknowledge the link between UHF RFID and the cloud, where RFID-based data can be stored, managed and shared via the internet. A reader is required to read and write a tagged item, manage the data and take action.
The technology is promoted worldwide by the RAIN RFID alliance.
RAIN RFID tags are either attached to or embedded in items to store and send information. Multiple tags, which can run into thousands simultaneously, do not have to be visible. RAIN RFID readers have one or more antennas for short- or long-range communication. The readers can be large or small and embedded in devices or designed to be portable, depending on size.
RAIN RFID software is used to create, collect and use the product's data locally or on a server, or on a cloud.
It also authenticates a product to ensure it is genuine.
A recent report by the RAIN RFID Alliance and VDC Research reports a global market value of $1.3bn in 2019, including finished tags/transponders, fixed readers, handheld readers and printers and encoders. The report also estimates that the tag IC unit shipments reached 18.5 billion units in 2019 and finished tag/transponder units were 17.7 billion units, with reader shipments exceeding 262,000 units.