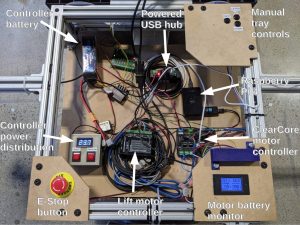 What's that to do with Electronics Weekly? Well, YouTuber Mark Rober customised, built and programmed an autonomous robot called Dominator, "Dom", to place the 102,000 dominoes. (It took just over 24 hours, if you are wondering, to make the Super Mario mural.)
You can read the piece written by our Technology Editor, Steve Bush, here.
ClearPath
For more about the technology involved, head over to baucomrobotics.com/domino-robot. For example, you can find the Hardware Overview here.
It's both steered and driven through omnidirectional wheels powered by ClearPath servos from Teknic of New York, which bought the record attempt to Electronics Weekly's attention.
Mark writes:
"Speaking of wheels, the whole robot runs on 3 omnidirectional wheels that are spaced at even intervals of 120 degrees. Special control of these wheels allows for the robot to move freely in any direction (the fancy robotics term for this is a 'holonomic' system), which is critical for precisely aligning with the dominos when preparing to place the next tray. The motors are driven by ClearPath motors which are super accurate and quite powerful for their size. The motors connect to the wheels through a 1:4 belt drive which allows the wheels to provide enough torque to move the robot (it weights ~200 pounds). All of the motors (drive motors and lifter motor) are powered by a pair of 24V 20AH LiPo batteries."
As for the brain of the robot, that's a Raspberry Pi 4, which handles high-level communication, calculations, and decision making. The Pi is connected – via a USB hub – to downward-facing IR cameras, the Marvelmind indoor GPS sensors, and the ClearCore motor controller.
This controller, says Mark, handles the lower level control for both the drive system and the tray lifter.
"It also handles the simple I/O such as the tray servo, manual tray buttons, and tray optical endstop. All of this is powered from a 22.2V LiPo battery which is regulated down to 5V for the devices that need it."
Impressive stuff. Check out the video showing Dom in action!