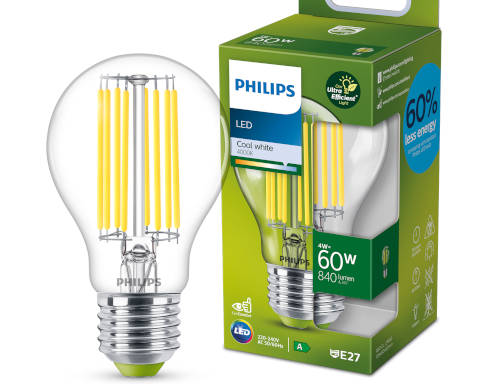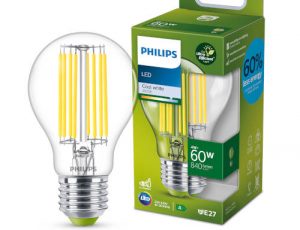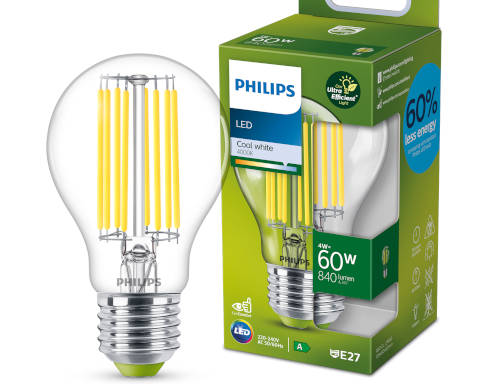 They will be available in 40W (below) and 60W (right) equivalents and should be producing at lease 210lm/W to be A-rated.
"Thanks to this technological breakthrough, the new products are the first in a range of new Philips LED A-class bulbs meeting the highest level in the new EU energy labelling legislations," said Signify.
BUT…
Philips has been able to produce ~200lm/W led lamps for a while, and has been making them exclusively for the Dubai market, so this might not be quite such a "breakthough", but more a case of EU's legislation forcing Philips to use a variation of its existing more expensive design to be able to use the new EU 'A' branding (which requires higher efficacy that the old EU top efficiency rating).
By the way, the UK looks to be following the EU on this one, even post-Brexit.
YouTube's BigClive got hold of a set of Philips Dubai bulbs, and both measured them and pulled them apart.
In the Dubai case, Philips was using 4x more led 'filaments' than its standard led filament bulbs and running them at a fraction of the 'normal' current. It is also using a capacitive dropper amongst other current limiting techniques in the fairly simple in-bulb psu – check Big Clive's linked video.
From looking at the boxes in the video, the Philips Dubai bulbs are:
'25W' 2W 200 lm four filament 'warm'
'40W' 2W 400 lm eight filament 'cool'
'60W' 3W  600 lm twelve filaments 'cool'
As a result of drastically reduced drive power, predicted lifetime increases hugely.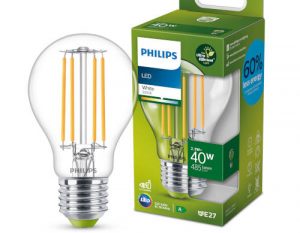 The new Philips A-rated bulbs (40W right) are not 'cool' and don't appear to have quite so many filaments, so more engineering has occurred, but Philips could have achieved 'ultra-efficient' 'breakthrough' performance, as it describes it, earlier if it had wanted to.
The new Philips EU A-rated bulbs are:
'40W' 3,000K 2.3W, 485 lm, four 'filament', 30mA from mains
'40W' 4,000K ditto
'60W' 3,000K 4W, 840 lm, eight 'filament', 43mA from mains
'60W' 4,000K ditto
In all cases:
210 lm/W efficacy
80 CRI
220-240V 50-60Hz mains
50,000hr to 70% life
non-dimmable
E27 base, 105mm tall, 60mm dia
Surprisingly, the 3,000K and 4,000K products have the same efficacy and seemingly identical other characteristics in each power class.
The bulbs also carry Philips' EyeComfort branding, which is a bit of a catch-all (it includes dimming and glare, not applicable to these bulbs) but it does suggest the company has at least thought about flicker and strobe, which are both included under this branding.