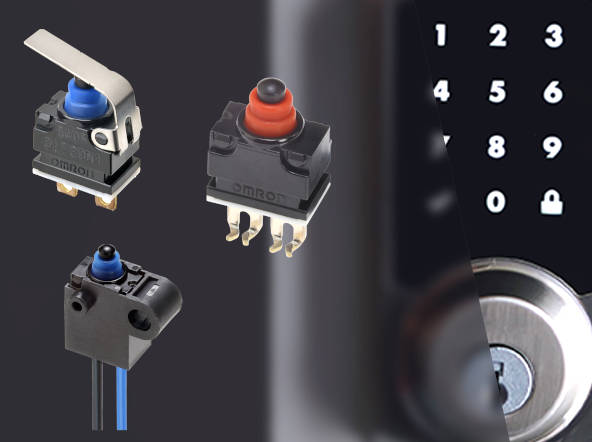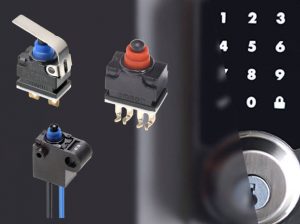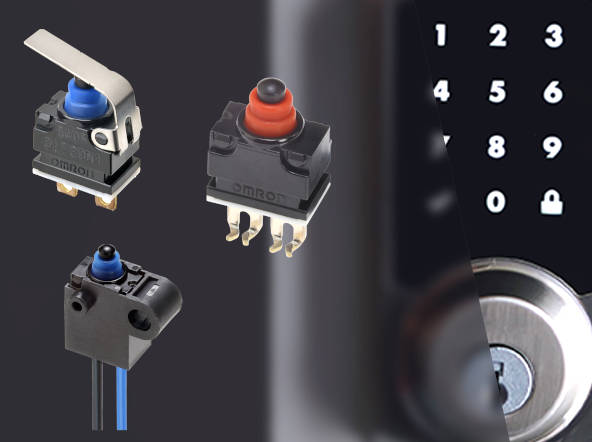 They are intended for vending machines, smart meters, electric vehicle charging stations, security systems, air conditioning equipment and white goods.
Type D2GW (see photo) is 8.3 x 6.5 x 5.3mm, sealed to IP67 and can operate up to 85°C. "It is potentially the smallest switch of its type in the industry," said the company, which is offering it in a host of styles, with a choice of mounting structures, actuators and terminal specifications.
Options include press-fit terminals for solder-less PCB installation, as well as solder terminals, PCB terminals and moulded wire leads. As it is symmetrical, with the push button in the centre, levers can be added in either direction.
The other switch is a new version of its standard basic switch: D2AW is also sealed to IP67, is slightly larger at 13.3 x 7 x 5.3mm and offers 100MΩ insulation resistance.
A version of this one, D2AW-R, has an integrated resistance to allow detection of four states: on, off, open-circuit and short-circuit. There are two basic circuits (left), both intended to work across 5 to 14V – custom values are possible.
D2AW switches are available with solder terminals, spade terminals or moulded wire leads. Rating is 100mA at 12Vdc and -40 to 85°C. Mechanical and electrical durability is 200,000 operations.
"Both the D2AW and the D2GW feature a unique contact design to maximise performance," according to Omron. "A sliding contact achieves quiet operation and high contact reliability, wiping away any dust or other impurities. Both also have double contacts to improve reliability."
Product pages:
D2GW (awaiting information from Omron)