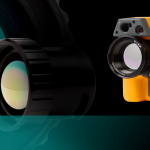 Fluke has todaylaunched a promotion offering customers a free thermal imaging lens when they buy a Fluke thermal imaging camera between 1 September and 15 December 2021.
The lenses provide greater flexibility across the range of applications for thermal imaging cameras by delivering increased accuracy and precise image quality. All lenses are interchangeable and compatible with Fluke's range of thermal imaging cameras.
The Wide-Angle Infrared Smart Lens offers a greater field of view which is particularly useful when scanning large areas like ceilings or roofs, as well as when monitoring assets in tight spaces. The 2x Telephoto Infrared Smart Lens magnifies twotimes more than a standard lens allowing the thermographer to remain at a safe distance from the target being scanned.
Customers purchasing a qualifying Fluke thermal imager between 1 September and 15 December 2021 from an authoriseddistributor can claim a lens of their choice (either a 2x Telephoto Infrared Smart Lens or a Wide–angle Infrared Smart Lens) from www.fluke.co.uk/freelens or www.fluke.ie/freelens.
The qualifying thermal imaging cameras include the Fluke Ti300+, Ti401Pro, Ti480Pro, Tix501 and Tix580 thermal imager. A receipt or invoice must be uploaded to verify proof of purchase. The free lens will be dispatched from Fluke within three weeks of the claim being made.
For more information on how to claim a free product, view the range of tools available, and for full terms and conditions, go to:www.fluke.co.uk/freefluke.