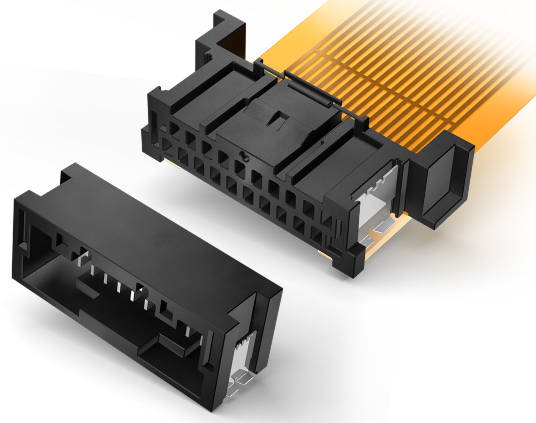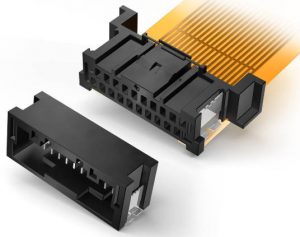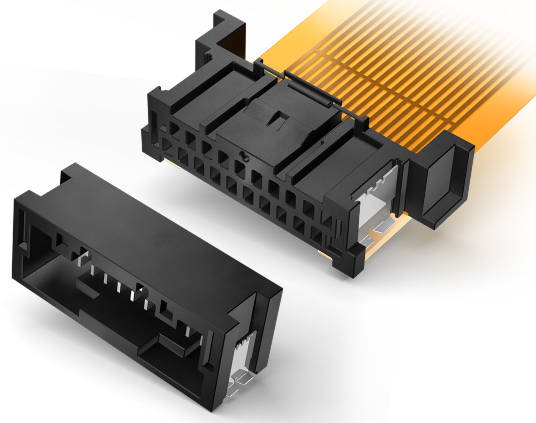 Called CF2, the two-part connector has two rows of 10 pins (custom arrangements possible) and is rated for 125°C, 44m/s2 (20 – 200Hz vibration and 981m/s2 (6ms) shock.
Capacity is 1A/pin and 50Vdc – it builds upon the early single-row CF1 types (4, 6 ot 10pin) that were rated at 2A/pin.
"For the sake of simplified time and cost-efficient assembly, there is no smarter and robust way to connect a PCB with a FPC: Just two parts – a plug and a receptacle – are needed for a reliable, vibration resistant high power connection, making relay wire harnessing sets redundant," according to the company, which is aiming the parts at in-vehicle battery management systems and LED lighting  – particularly daytime running lamps.
Mated, the connector pair is approximately 12 x 24 x 31mm including pins.
"For its compact-sized CF1-CF2 connector family, Panasonic resorts to a unique metal terminal connection structure, making the direct connection between the FPC and the board possible, overcoming poor assembly workability of wire harnesses," said the company.
Contact is double-sided, a lock resists unwanted disconnection, and a "inertial lock structure prevents incomplete mating" said the company. "Anti-mis-operation bridge structure prevents unintended operation of the mating lock."
Panasonic also expects non-automotive use, such as in lighting and energy storage.
The CF2 connector product page is here