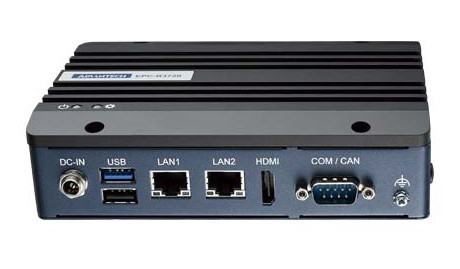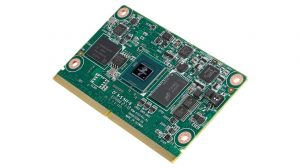 RSB-3720 2.5" Pico-ITX single-board computer
EPC-R3720 boxed computer 152 x 108 x 38mm
ROM-5722 SMARC 2.1 COM single-board computer (above)
Intended for smart vision systems, there are processor options up to quad-core 1.8GHz Cortex-A53 plus a Cortex-M7 co-processor for real-time tasks.
"This is accelerated by two image signal processors and a dedicated neural network processor at up to 2.3Top/s," said Advantech. "These deliver powerful image and AI inferencing capabilities while consuming less power than doing the calculations by the core CPUs alone."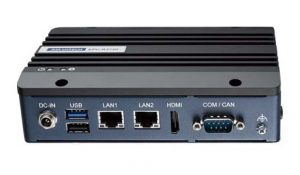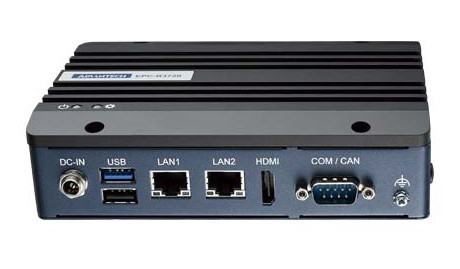 Advantech EPC-R3720
Potential applications are object detection, recognition, classification, and pose estimation.
All three styles of computer provide 2x MIPI-CSI camera inputs for the two image signal processors.
The computers accommodate multiple displays via 4Kp30 HDMI, one dual channel LVDS (configurable as two single channel LVDS) and one four-lane MIPI-DSI.
Interface options include two Gigabit Ethernet LANs and expansion for WLAN and WWAN.
The Pico-ITX RSB-3720 (right) accepts the company's UIO40-Express expansion boards. "Developers can select IO boards for RS-232 or RS-485 serial ports, isolated DI/DOs, USB 2.0, and four port Gigabit Ethernet hub," it said.
Advantech's AIM-Linux includes an embedded Linux board support package based on a long-term-support (LTS) version, and peripheral drivers.
Application add-ons and edge AI inference engines and libraries, mainly based on the NXP eIQ toolkit, are also available and there are Python based demo programs using inference engines including Arm NN, TensorFlow Lite and ONNX.
Advantech's Wise-DeviceOn provides set-up for multiple IoT devices, providing real-time device management, firmware over-the-air maintenance, failure analysis and operation efficiency optimisation on the same dashboard.
The product pages are:
RSB-3720 (Pico-ITX)
EPC-R3720 (boxed computer)
ROM-5722 (SMARC 2.1 COM)