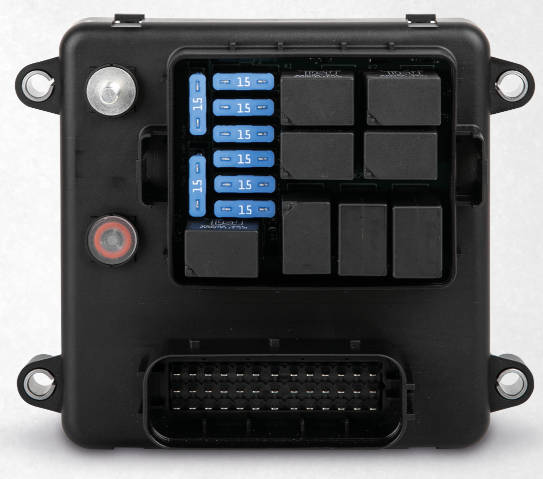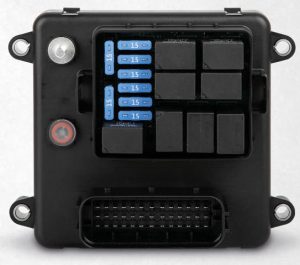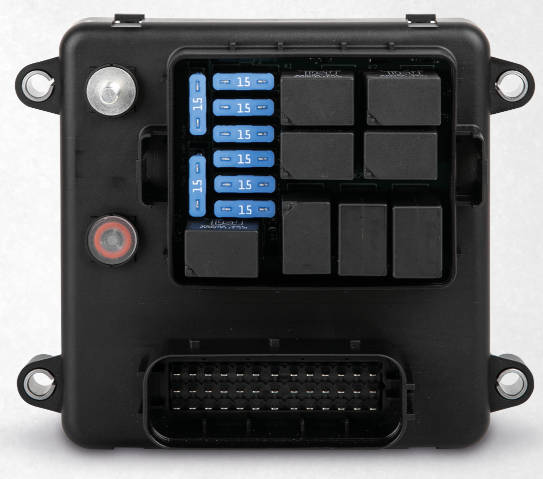 Called CAN Box 8FR6, it is a system building block for vehicle, industrial and commercial uses that includes has various diagnostic options and is supported by two software tools: WEcontrol Designer and WE Flasher – more of these later.
Intelligence in the 170 x 140 x 70mm IP64-rated box comes from an 32bit NXP Cortex M4 MCU with 512kbyte flash, 128kbyte RAM and 2kbyte F-RAM.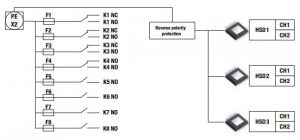 For power distribution, it has eight 15A fused relay outputs and six 2A high-side outputs – the latter are PWM-capable and can be used to dim lighting.
All outputs, relays and high-side, are current-sensing. In situations where load slowly creeps up, this sensing allows relay outputs can be turned off before the fuse blows – perhaps if current exceeds the normal load by 10% for more than 5 minutes, said the company. Output feedback also allows the detection of defective fuses.
For monitoring, there are four analogue voltage inputs (0-33.6 Vdc, 12bit), four nominally current analogue inputs (0-20mA, 0-11Vdc, 12bit) and four digital (or frequency) inputs with switchable pull-up resistors (not shown in diagram).
Communication is through two CAN bus interfaces.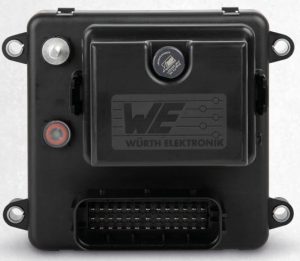 Sealing is to IP64
All the potential output capacity can be used within the boxes thermal limits – "Würth Elektronik ICS recommends programming an application limitation and a system warning via CAN communication to avoid having the temperature inside the box rise above 100°C," it said. "Two temperature sensors are built into the box for temperature measurement."
Activation cycles and operating hours can be stored in the FRAM, when appropriately programmed.
WEcontrol Designer software includes various function block libraries to speed programming.
The environment is IEC 61131-3 compliant, and standardised protocols such as J1939 or raw CAN can be used.
"You can integrate the device into the software environment of the machine manufacturers by implementing the UDS bootloader," said Wurth, which offers WE Flasher to support the UDS protocol – it can communicate with UDS via CAN and search the CAN network for the CAN Box 8FR6 in order to then upload applications or firmware updates.
8FR6 is a standard product, while the relays and fuses can be selected according to the customer's application, although the company recommends 10A or 15A relays.
The company sees it taking control of loads such as lighting systems, feeing up the inputs and outputs on the other controllers, as well as multiple boxes being used in decentralised systems or when retrofitting automation.