The best wireless headphones package great sound, special features, and lengthy battery life into a convenient, cord-free design. On top of being the perfect companion for mobile devices like smartphones and tablets, they also work well for laptop users, especially business travelers, remote workers, students, and anyone who loves using their portable PC as their main audio source.
Laptops were designed to be taken anywhere and can be excellent productivity tools or entertainment consoles when hitting the road. Pairing your machine with some high-quality wireless headphones only enhances the listening experience.
Sure, you can spend money on an elite gaming mouse. Maybe even a portable charger that's powerful enough to juice up the laptop when an outlet isn't available. But wireless headphones remain the wiser and more practical investment.
The market is flooded with options and styles, from noise-cancellers to truly wireless buds. To make the decision easier for you, we have compiled this list of the best wireless headphones, based on our extensive testing, research, and comparisons. Here is a look at some of our top picks in the category.
What are the best wireless headphones and earbuds?
Currently listed as the best wireless headphones overall is the Bose 700. A svelte, futuristic design combined with intelligible features, precise sound, and unbeatable active noise cancellation, the company's latest flagship model has set the standard for what wireless headphones should look and sound like moving forward. Its in-ear counterpart, the Bose QuietComfort Earbuds are also excellent wireless earbuds that combine great sound quality with the very best noise cancellation in the true wireless category.
In the No. 2 slot for best wireless headphones is the Sony WH-1000xM4, which is considered by many critics (including us) to be the best-sounding ANC headphones available. Audio quality is outstanding, with the headphones delivering boomy sonics and crisp mids and highs. Amazing noise cancellation that nearly rivals Bose, customizable features via companion app, and plenty of playtime (30 hours with ANC on) help solidify their placement on this list. Following its lead is the Sony WF-1000XM4, which combines the refined sound and ANC performance of its over-ear sibling into a fancy compact design.
Apple's biggest headphone release to date, the AirPods Max, makes an appearance on our list for its surprisingly great sound and ANC performance. The Apple AirPods Pro remains a top seller that isn't too far behind on our best wireless headphones list. This upgraded version welcomes innovative features like an adaptive EQ, effective noise cancelling, and even an Ear Tip Fit Test to determine the best ear tip size for maximum sound quality.
Bower & Wilkins has two solid entries on our best wireless headphones list: the PX7 Carbon Edition and PI7. These are both considered popular options for luxury audiophiles. Consumer favorites like Jabra, Sennheiser, and Beats, along with newbies like Cleer, make the cut as well.
We'll also be keeping tabs on highly anticipated models set for release next year, including two heavily rumored Apple products: the AirPods 3 and AirPods Pro 2.
Scroll further down to see our official ranking of the best wireless headphones in 2021 (so far).
The best wireless headphones and earbuds right now
If you're someone who wants to feel completely immersed in their Spotify playlists without any distractions, look no further than the current king of active noise cancellation. The Bose 700 is the best wireless headphones for the money, taking ANC to the next level with six microphones that filter out ambient sound across the entire frequency spectrum. You won't notice the crying babies in coach when watching films in flight. Bose also programmed the headphones with 10 adjustable ANC levels, three of which can be assigned as presets to control the amount of noise you want to hear.
Even more impressive is the call quality, as the mics amplify your vocals, while filtering out background fracas. You'll also get clean sound in a beautiful package that complements any MacBook model. Battery life isn't anything to brag about, but it's stable. If you have the money, then it's worth investing in the 700's charging case to get 40 additional hours of playtime. Bose also just released a new version of the headphones called the 700 UC that is designed specifically for video conferencing (e.g. Zoom, Google Meet, Microsoft Teams) and includes a USB Link Bluetooth model for reliable connectivity to answer calls in a jiffy and easily switch between audio sources.
See our full Bose 700 review. 
The Sony WH-1000xM4 headphones offer excellent audio quality, 30 hours of battery life and a host of audio customization features that make the headphones some of the smartest on the market. And you get active noise cancelling that, dare I say, is a serious contender to Bose's crown. And thanks to Bluetooth 5.0, the 1000xM4 can connect with two devices simultaneously.
In addition you can program the cans  to pause whatever you're listening to the second you speak, adjust the noise cancelling depending on your activity or location, and create a 3D audio experience. And this is all before we get to the excellent active noise cancelling that's nearly equal to Bose, the incredibly rich audio experience, the 30 hours of battery life and the MIF (Most Improved Feature), the crystal clear call quality.
Read our full Sony WH-1000xM4 review.
The smartest, best-sounding, and most feature-laden wireless ANC earbuds are the Sony WF-1000XM4. Sony threw in all the bells and whistles when developing the latest in-ear Mark series model, even developing a new chipset (Sony V1) to reduce distortion and enhance overall audio quality, which is exceptional. It also analyzes ambient noise and provides highly accurate noise cancellation that is on par with Bose's technology; that is no easy feat. Battery life receives a generous boost (8 hours of ANC playback) from the previous version. Intelligible features such as speech detection (e.g., Speak-to-Chat) and voice activation (e.g., Google Assistant, Alexa) offer users more unique ways to operate the buds. The Sony Headphones Connect app also grants access to a ton of functionality for personalizing the buds.
Sony's redesign is aesthetically pleasing, though some might find its ergonomic frustrations, like the long sound port and unstable memory foam tips, to be unpleasant at times. However, fit, along with glaring omissions like a Find My Buds function and NFC, shouldn't stop you from splurging on a pair.
Read our full Sony WF-1000XM4 review.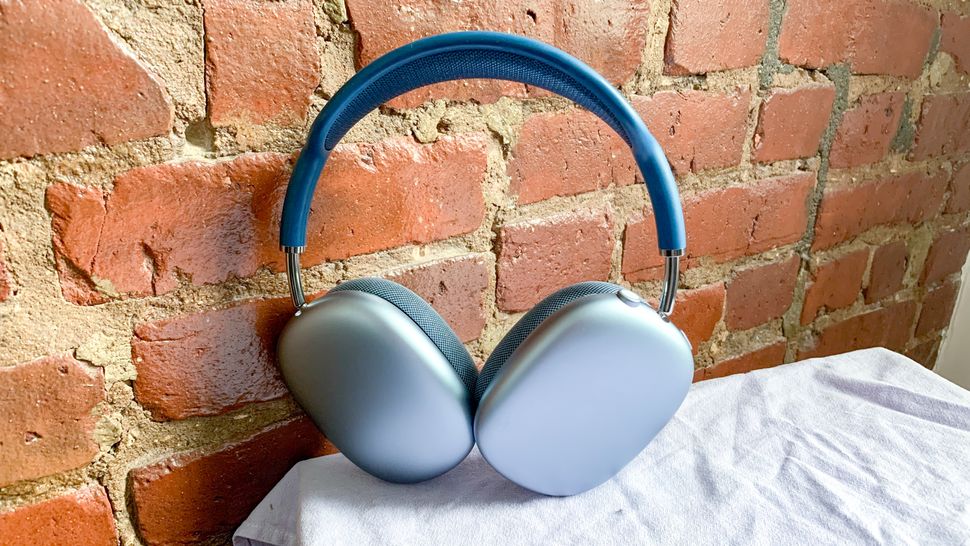 Apple's wireless headphones live up to the hype with exceptional audio and ANC performance. Underneath the sleek, clean-looking design are 40mm custom dynamic drivers that pump out near-audiophile-grade sound, balancing frequencies superbly well to enjoy rich mids, highs, and lows. Spatial audio helps create the illusion of a 360-degree soundscape when listening to music or watching movies. If you like the AirPods Pro's noise cancellation, the AirPods Max is even more impressive, employing eight mics to effectively block out the majority of external sounds. Seamless iOS integration means you'll not only connect to Apple devices with ease, but also gain access to numerous software perks including audio sharing, automatic switching, and "Hey Siri" voice activation.
It's ballsy for Apple to price their headphones $150 higher than Bose. However, for Apple fanboys who live on iOS and macOS devices, these cans are the ideal audio investment, if you can afford them.
See our full Apple AirPods Max review.
The AirPods Pro isn't the ideal audio solution for any high-powered laptop, but what Apple's third-gen buds afford you is sheer portable convenience. They're considered one of the best wireless headphones for many reasons. Comfort is excellent, thanks to a new design that now features integrated tips for a secure fit. Strong connectivity and instantaneous pairing are givens for all Apple devices. The charging case is easy to carry around and supports wireless charging, so you can place it atop the Qi-compatible wireless charger on your desk when crunching numbers on your iMac. Apple also gives you effective noise cancellation to hush annoying co-workers and commuters.
Sound wasn't much to brag about previously, but that has changed with the latest iOS 14 update bringing spatial audio into the mix, a feature that brings theater-quality 3D audio to the buds. Sadly, there are no updates for battery life, which is something that definitely needs to be addressed considering the AirPods Pro has a shorter playtime than the AirPods 2.
See our full AirPods Pro review. 
This updated version of B&W's popular noise-cancelling model flaunts a carbon fiber exterior, while maintaining the excellent performance of the original. The soundstage is enthralling and spacious, offering up impactful bass, lively mids, crystal-clear highs. Some may take issue with the lack of EQ or music presets, but in reality, B&W did a stellar job engineering the soundstage to enjoy all types of content (e.g., music, movies, podcasts, ebooks). B&W's mic array can silence plenty of city noises, allowing you to indulge in Spotify playlists distraction-free. It won't completely block out everything, but not many of the best noise-cancelling headphones do either. Battery life is another enticing attribute, giving users 30 hours of playtime with ANC on, which is 10 hours more than the Bose 700. 
The extra use of carbon fiber does add extra weight. Also, you might notice some stuttering when streaming music or using the Soundscapes mode, which is related to connection issues.
Read our full Bowers & Wilkins PX7 Carbon Edition review.
What if we told you Bose made one of the best wireless headphones out there, only it came in true wireless form and features the same active noise cancellation as the critically acclaimed 700 headphones? Well, they did. Introducing the QuietComfort Earbuds, an in-ear marvel that nearly replicates the 700's ANC capabilities, and with half the mics. You still get 10 adjustable levels and the Bose Connect app lets you set three "favorited" ANC settings that can be cycled through on the left earbud. Bose even enhanced its Transparency Mode, blending it with noise cancellation to make ambient noises sound clearer. The company's Active EQ technology and proprietary drives were stuffed into these buds to give listeners warm, pleasant audio. Connectivity is also spot-on, as Bluetooth 5.1 operates smoothly, and the Bluetooth button programmed into the charging case makes manual pairing a breeze.
Speaking of the charging case, it's a big, hefty sucker that doesn't hold much portable power. The standard playtime on the buds isn't anything to brag about either; it's just barely higher than the regular AirPods.
Read our full Bose QuietComfort Earbuds review.
The asking price alone is enough to have you scroll past this entry, but the greatness of Bowers & Wilkins' first-ever wireless earbuds cannot be denied. Sound is unbeatable with the PI7 carrying dual hybrid drivers that have their own individual amp, along with support for 24-bit sound and Qualcomm's latest aptX Adaptive codec, which allows for lossless wireless sound when streaming music on hi-res platforms. B&W's noise-cancelling technology is almost up there with Bose's and does a fantastic job of neutralizing most ambient noises. It also blends with the Ambient Pass-Through mode to make external sounds more distinguishable and less harsh. The only thing fancier than the audio performance is the design, as B&W's stellar craftsmanship is on full display. 
Battery life is the PI7's one major flaw; 4 hours on a single charge is below the industry standard (5 hours). Not everyone has $400 to splurge for hi-fi-sounding wireless earbuds either, but for those with the money to splurge, they'll find the PI7 worthy of inclusion on our best wireless headphones list.
Several models make a strong case for best wireless headphones under $100, but after weeks of testing, we find the Jabra Elite 45h to be the clear-cut winner based on performance and specs. The 40-millimeter audio drivers deliver entertaining sound that can also be customized by manually adjusting the EQ or selecting from a handful of music presets. It's the only available feature at the moment, but with the headphones supporting firmware updates, we're expecting more to come in the following months. Bluetooth 5.0 operates superbly to offer stable connectivity across all devices, while 50 hours of playtime ensures you have enough juice to enjoy music and movies for nearly two weeks before recharging.
We can look past the plastic construction, especially when factoring in how light and comfortable these headphones feel. Our biggest complaint is the lack of noise isolation, which, due to the on-ear design, leaks a lot of sound. However, it's no big deal if you're listening at mid-level volume.
 See our full Jabra Elite 45h review.
The Momentum True Wireless 2 is a notable inclusion for many reasons. One, you're getting Sennheiser sound in the smallest design possible, so you can consume deep bass and natural mids no matter the music genre. ANC is very impressive, minimizing external sounds well enough to keep your ears tuned to whatever media is playing. Improvements were made to connectivity and call quality, allowing for loud, stable, and clear-sounding calls. Lastly, battery life has doubled from its predecessor, with the sleek gray fabric charging case also holding an extra 21 hours.
If you've followed the company's track record, then you know that Sennheiser products usually come at a premium, and in this case, it's $300. That is a bit steep when considering the ANC performance of the QuietComfort Earbuds ($279), as well as the overall performance of the AirPods Pro ($250), which are both expensive, but still cheaper than the Momentum True Wireless 2.
See our full Sennheiser Momentum True Wireless 2 review.
The Enduro ANC gives you great sound, effective ANC, and class-leading battery life for $150.A full charge warrants you up to 60 hours of listening time, and that is with ANC on. Sound is dynamic and can be personalized in the companion app. There are 10 adjustable levels of ambient listening to control the amount of noise you want to hear, while Cleer's active noise-cancelling technology does a commendable job of minimizing external sounds. You even get some cool connectivity options like NFC and Google Fast Pair to instantly pair these cans with any compatible Android devices.
The design doesn't stand out as much as the models in the Flow series, which feel and look more premium. In addition, the companion app needs more features to compete with big dogs like Jabra Sound+ and Sony Headphones Connect.
 See our full Cleer Enduro ANC review.
For those seeking something similar to the AirPods Pro that plays well with both Android and iOS, the Studio Buds are paging you. Beats designed its latest creation from the ground up, integrating an all-new processor that optimizes performance for Android devices, highlighted by Bluetooth 5.2 and one-touch pairing. The buds will also operate smoothly on all Apple products and let you access some iOS features, from spatial audio to FindMy for locating misplaced buds. Sound is more detailed this time around, delivering better clarity and dynamic range than the AirPods Pro and Powerbeats Pro. Battery life with ANC on might only be 30 minutes longer than the AirPods Pro, but at least you can extend it to 8 hours when disabling the feature.
You do miss out on exclusive H1 chip features (e.g., automatic switching, Siri Announce Notifications), as well as wireless charging, but sound quality and noise cancellation make the Studio Buds well worth the investment.
Read our full Beats Studio Buds review.
How to choose the best wireless headphones and earbuds for you
The keyword here is wireless, so, realistically, you'll want to select the best wireless headphones with the best connectivity. Look at the spec sheet to see what Bluetooth protocol these cans operate on; the majority of today's headphones and earbuds have Bluetooth 5.0, whereas older models run Bluetooth 4.2. Just know the higher the protocol, the better the pairing capabilities and wireless range you'll get.
Next on the checklist is sound. It goes without saying that these headphones or earbuds should sound great. Brand recognition goes a long way, so researching models from companies with strong audio backgrounds might help narrow down your selections. Otherwise, hunt for models with powerful drivers that can deliver well-balanced sound, no matter the media format (e.g. music, movies, podcasts, video games). We also advise looking at those with either programmed EQs or mobile apps with personalized sound settings.
The move from wired headphones, which require zero power, to wireless headphones can be a big change for some, as usability is based primarily on battery life. Simply put, you want headphones with long playing times, that way you won't have to worry about carrying around a charging cable or portable charger. Most wireless earbuds are rated at 5 to 8 hours, though newer releases (e.g. Samsung Galaxy Buds Plus) offer as much as 11 hours on a single charge. Bluetooth headphones should last 20 hours or more.
Design is just as important. Why wouldn't you want headphones or earbuds that look as good as they sound, and are easy to carry around? See what's out there that is comfy, flexible, lightweight, and built to last. A travel case is vital as well, so don't overlook this when browsing through the product's list of bundled accessories.
How we test the best wireless headphones and earbuds
Several factors are taken into account when finalizing our list of the best wireless headphones. Our reviewers evaluate the following criteria: audio, battery life, connectivity, design, and value. Any models with app-enabled features are thoroughly tested as well.
Every pair is worn over the course of a week for 2 to 3 hours at a time. Throughout the testing period, our staff evaluates Bluetooth performance, comfort, ease of use, and sound quality. We listen to tracks across several genres, including hip-hop, rock, jazz, classical, and R&B, just to name a few. We evaluate clarity, fullness, and volume levels too.
With more streaming services offering high-resolution audio, we advise reading this audio codec FAQ to learn more about FLAC files, MP3s and everything in between.
Once testing is completed, our reviewers rate each pair of wireless headphones based on Laptop Magazine's five-point system (1 = worst, 5 = best). Any product that shows it is truly exemplary is awarded an Editor's Choice badge.